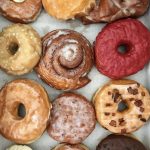 Posted on July 5, 2017 by Jamie Stahl in Food Facts

  A few weekends ago I was in Charleston, SC.  I had a bachelorette party there and it was my first time in the real south.  I don't really consider Atlanta or Florida "the South."  I think most people exclude those areas when referencing "the South."  I'm not sure why and it's not really that […]

2 Comments. Continue Reading...