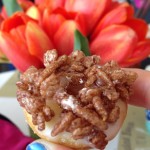 Posted on April 30, 2015 by Jamie Stahl in Uncategorized

It's the last day of April 2015, which was a pretty big month for me.  After a month of hard work, I finally launched this blog site on April 16, 2015.  I've been assiduously posting on my Instagram feed and am extremely lucky to have exactly 180 followers as of now. Throughout April I've had […]

1 Comment. Continue Reading...