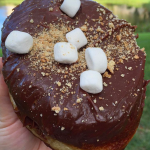 Posted on June 2, 2017 by Jamie Stahl in Dessert

Happy June 2nd a.k.a National Doughnut Day!  If you haven't had your doughnut yet, don't worry!  There is still plenty of time.  Plus, you can eat doughnuts really any day you want, so get one tomorrow and celebrate twice! It's been a minute since I've written anything on here.  Let's address my absence before going further.  I'll […]

1 Comment. Continue Reading...